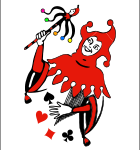 Hai sa ne Jucam!..
Iata:
Pentru Inceput, impatrim Asii:
Cruce, Caro, Cupa, Spada.
……….
Jokatorii vad cum Riga se Uita pe Masa… si dincolo de Asi… vede Regina.
Vorbeste cu Ea,.. si Adoarme.
Apoi:.. Stang-Doi-Trei-Patru… Zece… si e gata/iata.
Gata/Iata… Apare… Valetul.
ESTE!
Valetul devine Rege… si…
Riga se trezeste… Jokrator.
……….
Suntem Trei deja… Cum Numim Acest Joc?
Pur si Simplu..: Alt Joc!
Hai sa Ne Jucam…
………..
Vlad Totoianu
This entry was posted on Sunday, October 10th, 2010 at 12:20 pm and is filed under
DesTainuiri
. You can follow any responses to this entry through the
RSS 2.0
feed. Responses are currently closed, but you can
trackback
from your own site.