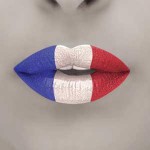 …………………………
Rumanii se cred Francofoni…
Aaa…
Nobila Natiune!…
…………………………….
Daca'i p'asa… dragi compatrioti… atunci…
…Sa va dau inca un motiv (pe langa multimea de motive… pe care… oricum nu le stim exact…) sa fiti chiar FrancoFili:
CRETIN
Etymology:
From French crétin (dialectal form of chrétien), from Vulgar Latin christianus, from Latin Christianus, in the lost sense of 'unfortunate person'.
………………………………………………………………
…adica… ceea ce doar August Scriban… in 1939… avea curajul sa scrie:
cretín, -ă s. (fr. crétin, d. chrétien, creștin, cum li s´aŭ părut Francejilor aceĭ creștinĭ vechĭ care se țineaŭ numaĭ de post și rugăcĭune). Idiot rachitic [!] și gușat. Fig. Idiot, tîmpit.
………………………………………………………………..
In concluzie…
Nu trebuie sa ne dam francofoni sau francofili…
Oricum… suntem cu pluta pe dambovitza in materie de La Seine!
Trebuie doar… sa-i Respectam!
Da!
Au cuprins in Limba Lor un Adevar Absolut al Civilizatiei Europene!..
…CRE(S)TINISMUL!
.
.
.
Vlad Totoianu

This entry was posted on Thursday, June 6th, 2013 at 7:40 pm and is filed under
Morala Minimala
. You can follow any responses to this entry through the
RSS 2.0
feed. Responses are currently closed, but you can
trackback
from your own site.